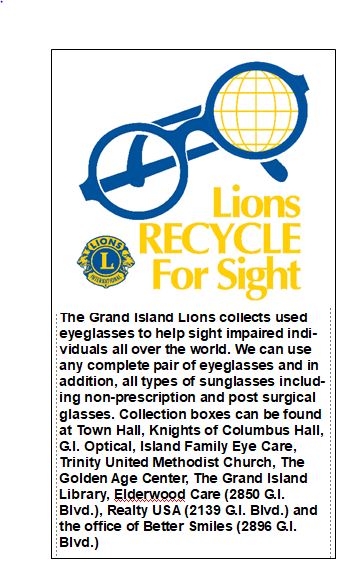 Local people with a concern for helping others
are the people who join the Lions Club.
2013-2014 Club President Brooks Rimes (716) 909-6438
Corresponding Secretary Annette Boies-Lobl (716) 773-3530

---
---
Mission: "We Serve" is the Lions' Motto. The mission of the Grand Island Lions Club is to help those in need in our community with special emphasis on the vision and hearing impaired, and children with disabilities. Major fundraisers include a spaghetti dinner in the spring and a "White Cane" drive in August. Our major event is the "Special Kids Picnic" in July when over one thousand special needs children from the Erie-Niagara area are treated to a picnic that includes a lunch along with boat rides, pony rides, and other entertainment. We also perform MTI Photo-screening of children's eyes (for early detection of eye disease) coordinated through the local school systems. In addition we collect eyeglasses and hearing aids for the disadvantaged and have a "loan closet" for distribution of walkers, wheelchairs and other durable goods. Our Club is also active in a number of drives both locally and internationally to help the vision impaired. Our Club also recognizes the importance of youth in our community. We participate annually in a Peace Poster Contest, which encourages our middle-school age children to creatively express their concept of world peace. We award scholarships to high school graduates, based on their community involvement, scholastic achievements and other criteria.


---
---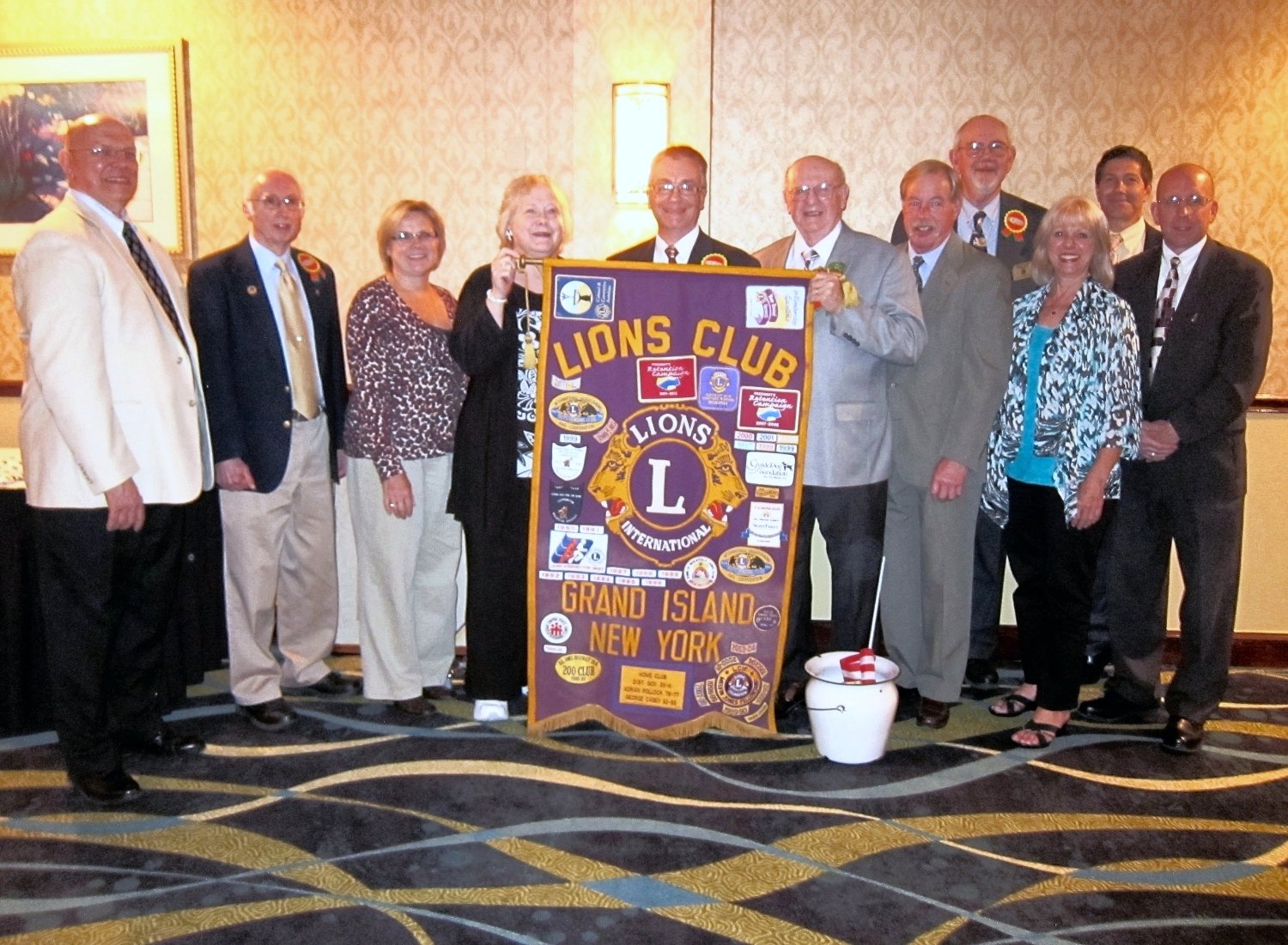 On June 12th the Grand Island Lions Club held their annual Installation Dinner at the Grand Island Holliday Inn. In addition to Officers installed, the Club gave out milestone awards for years of service: Tom Rusert (15 years), Fred Ruocco and Tom Witkowski (20 years), Tom DeCarlo, Pat Patterson, and Earl DeGlopper (35 years). Officers pictured at the event are from left to right: Lions Tom Witkowski (Immediate Past President), Paul Bassette (Director), Donna Lavallee (First Vice President, Recording Secretary), Annette Boies-Lobl (Corresponding Secretary), Brooks Rimes (President), Al Ackerman (Lion Tamer), Tom Rusert (Second Vice President), Dave Chervinsky and Anne Fahning (Directors), Fred Ruocco, (Tail Twister), and Dick Crawford (Treasurer). Not present was Norm Hahn (Director)


---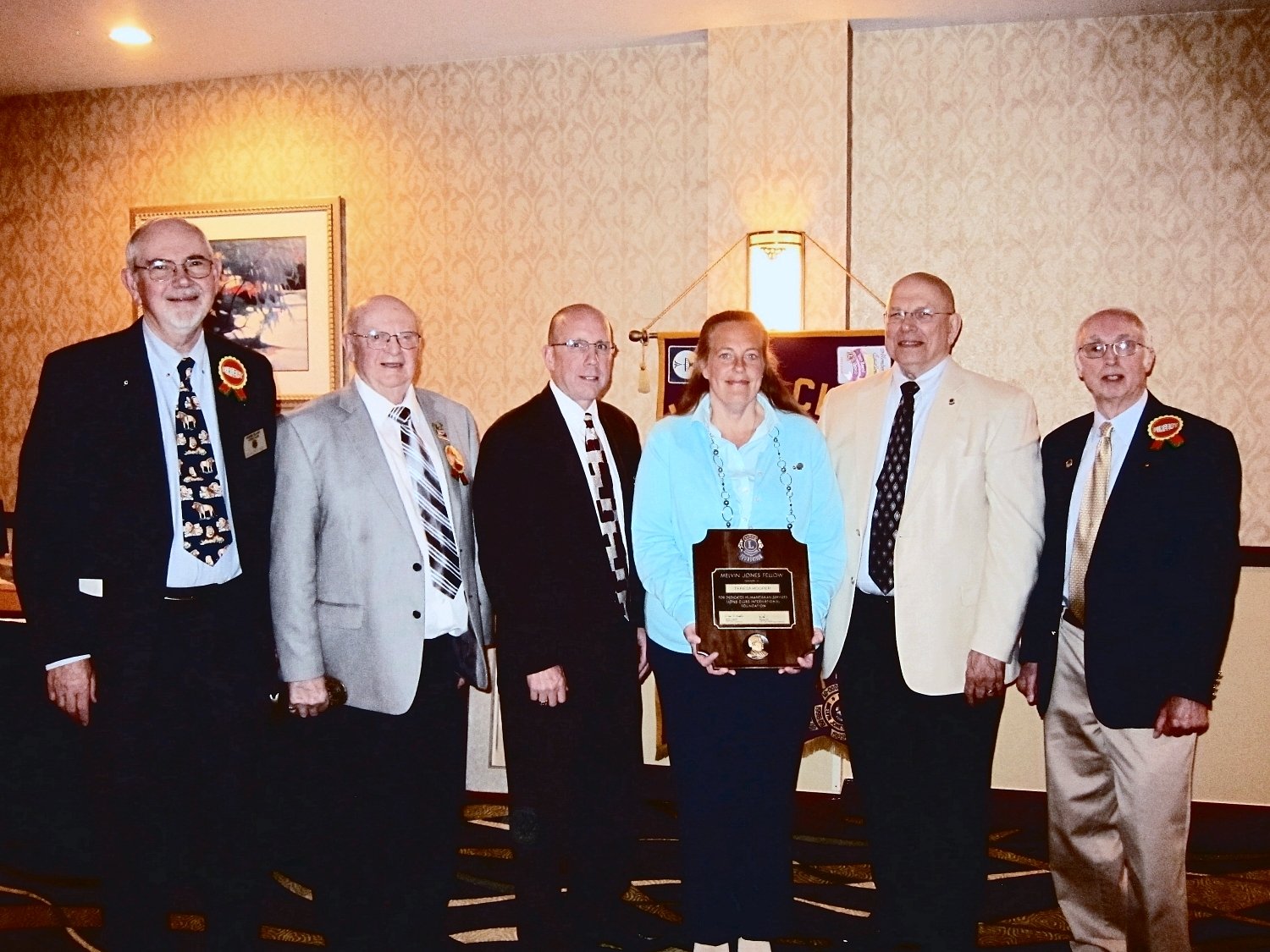 The Grand Island Lions awarded Teresa Hooper with the Lions Club International Foundation Melvin Jones Award. The award is the LCIF's highest honor. Hooper is the Past President of the Miracle League of Grand Island and was the driving force behind the successful completion of the Miracle League Field on the Island. Posing with Teresa Hooper holding her Melvin Jones Award are past Melvin Jones recipients from left: Dave Chervinsky, Al Ackerman, Dick Crawford, Hooper, Tom Witkowski and Paul Bassette.


---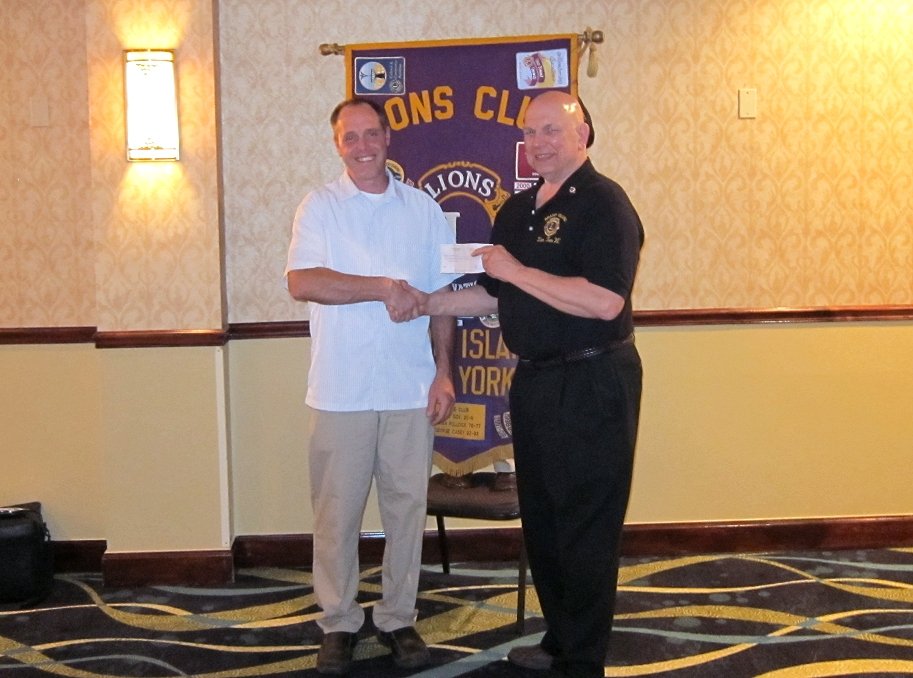 Lion Sean Kelly (left) from Kelly's Country Store Presented a check for $2800.00 to Lion President Tom Witkowski of the Grand Island Lions at their regular dinner meeting held at the Holiday Inn on May 8th. The Money, earmarked for the Special Kids Picnic to be held on July 17th of this year, represents all profits from the annual sale of Christmas trees at Kelly's Store. The sale in it's third year has progressively improved with Sean noting they have added 100 tree stands this year to make it easier to pick out a tree. Supporting the Special Kids picnic is a rewarding tradition for Kelly's started by Sean's Father Mike Kelly who was a long-standing member of the Lions and for many years donated his time and store resources for the benefit of kids with special needs.
---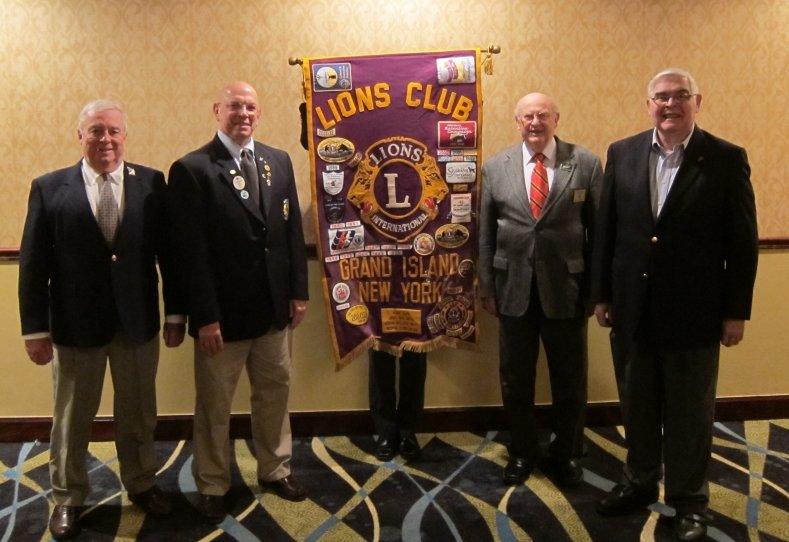 Three long time members of Our Club were presented with longevity awards at our November 14th meeting. Pictured from left to right are Lions Tom Butler (30 years), President Tom Witkowski, Al Ackerman (40 years), and John McCarthy (45 years). Lion John McCarthy Passed away unexpectedly on January 16th 2013. Rest in peace Lion John.


---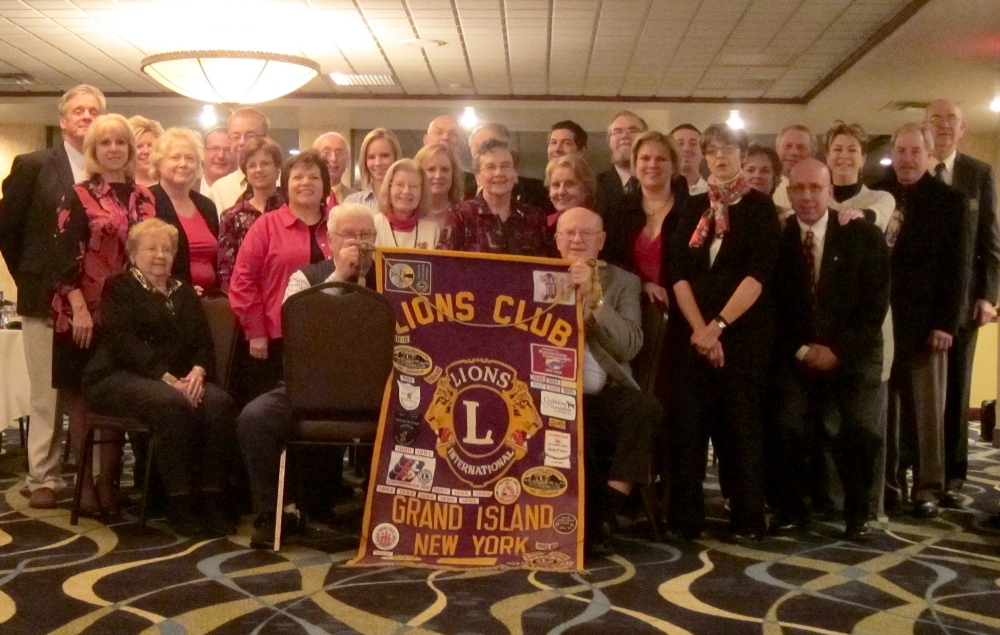 On December 12th the Grand Island Lions Club held their annual Christmas Party at the Grand Island Holiday Inn. Lion Fred Ruocco was the Master of Ceremonies and entertained the Club with seasonal songs and much merriment. During the party the Lions raised $500 to be donated to the Neighbors Foundation for annual holiday fund drive.


---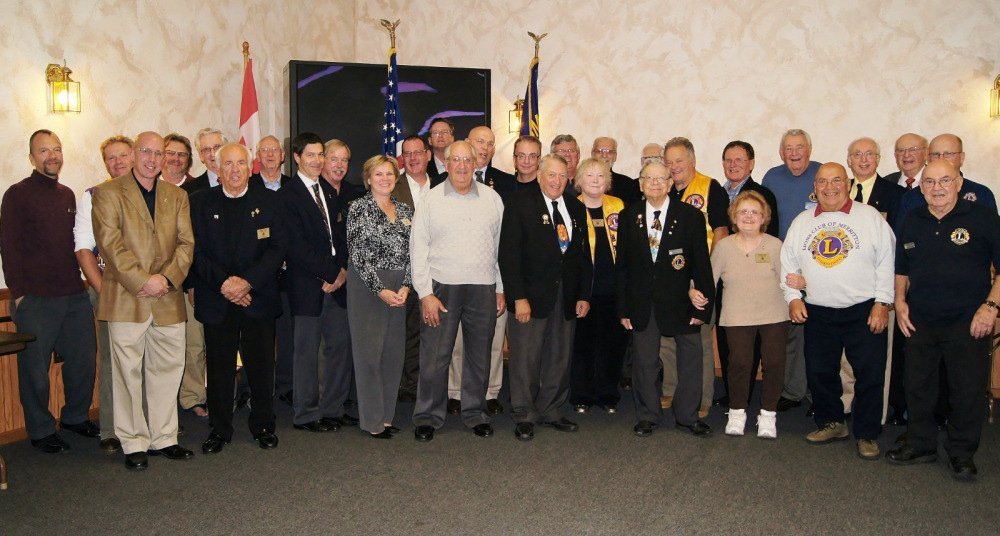 Lions fellowship was at its finest on October 24th 2012, at the Knights of Columbus Hall. Lions from our Sister Club of
Merritton Ontario joined us for our joint dinner meeting on Grand Island. Steaks were on the grill, prizes were
drawn, and everyone enjoyed the laughter, fun and camaraderie.

---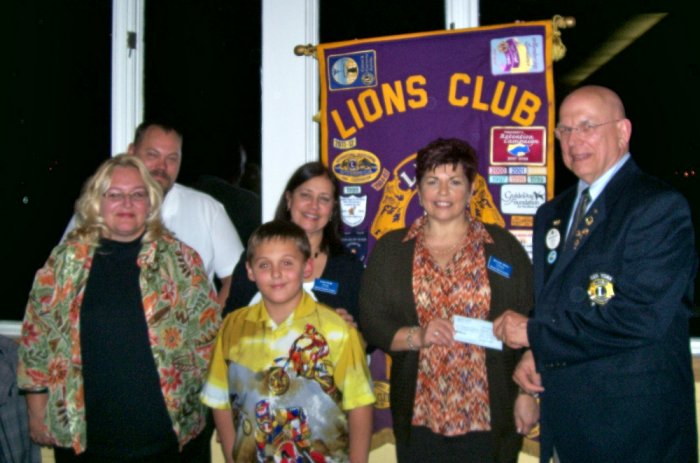 Lion President Tom Witkowski presents a check in the amount of $200 to Tami Mills, Steve Krusicke, their son Ryan with Special Spaces Buffalo co-founders Beverly Ann Olsen-Witkowski and Lynn Weber-Wall at our 9/26 meeting.
---



Special Kids Picnic 2012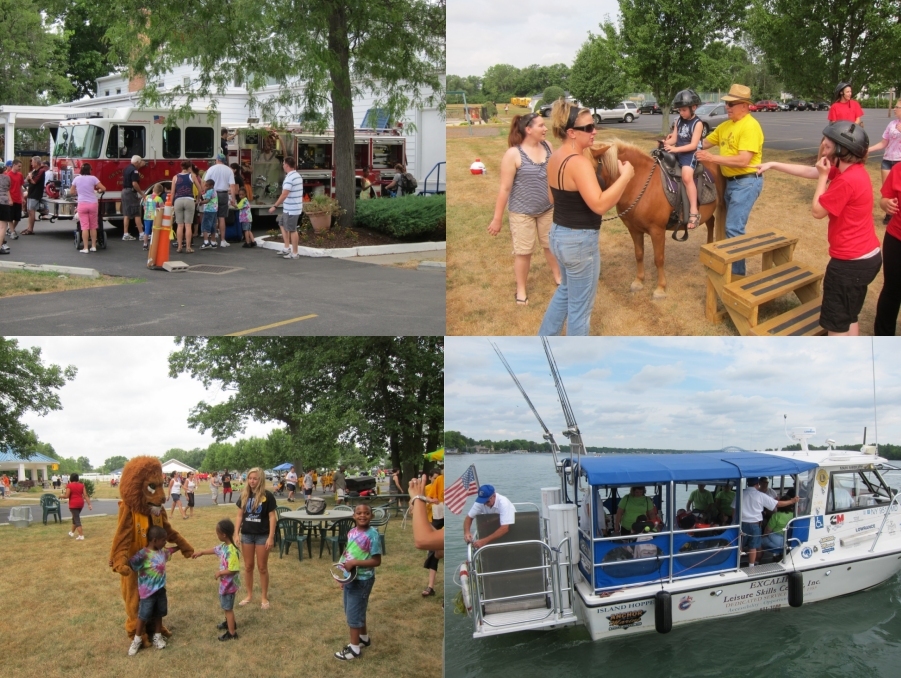 The 54th Annual Grand Island Lions Club "Special Kids Picnic" was held on Wednesday, July 18, 2012 on the grounds of the Buffalo Launch Club. Around 700 kids with special needs from all over Western New York were treated to food and drink and a variety of entertainment including boat rides, horseback rides, Shriners truck rides, and face painting. The Niagara Experience players performed for the kids and the Grand Island Fire Company brought their fire trucks and equipment for the kids to explore. In addition Sabretooth and our Mascot Lion were real crowd pleasers. Lion Annette Boies-Lobl, Picnic Chairman, stated many schools and organizations were in attendance including Autistic Services of WNY, Erie 1 BOCES from Clarence, Williamsville, Casey, Sweet Home and West Seneca West Schools, in addition to Heritage Education Centers and People Inc. Volunteers included many people from our community along with Lions from other clubs such as Ransomville, Wheatfield, Kenmore, South Buffalo-Lackawanna and Merritton Ontario. Community volunteers included the Grand Island Rotary, High School Cheerleaders, and Football Team, Kelly's Country Store and Boy Scout Troop 104 from Kenmore.



______________________________________________________
______________________________________________________

2012-13 Officers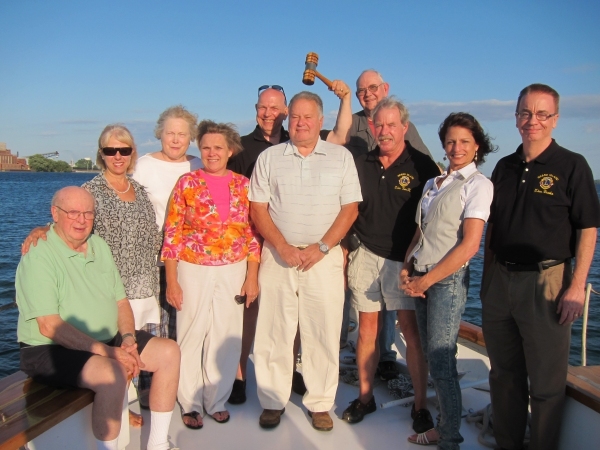 The Grand Island Lions Inducted their 2012-13 President Lion Tom Witkowski at their Board of Directors Meeting on June 26th aboard Past President Anne Fahnings Boat. Pictured on the bow are Lions Al Ackerman (Lion Tamer), Anne Fahning (Past President), Annette Boies-Lobl (Corresponding Secretary), Donna Lavallee (Recording Secretary), Tom Witkowski (President) Henry Lobl (Director), Dave Chervinsky (Director), Tom Rusert (3rd Vice President), Shelia Ferrentino (Director) and Brooks Rimes (1st Vice President). Not present were Fred Ruocco (Tail Twister), Norm Hahn (Director), and Dick Crawford (Treasurer).
---
Large Print Donation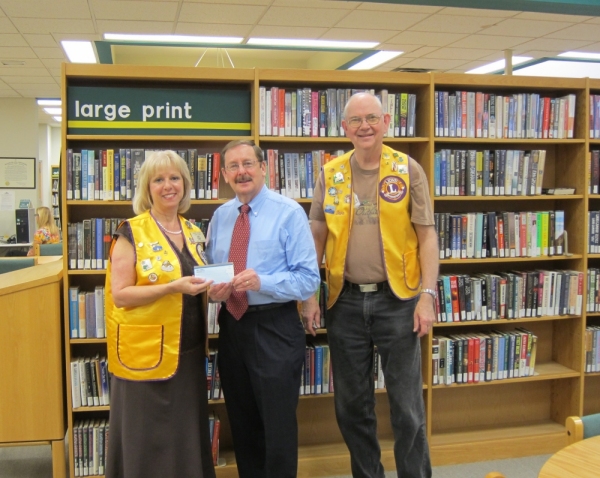 As part of our ongoing mission, our Grand Island Lions Club recently donated $1000 to the Grand Island Library to purchase large prints books for the sight impaired. To date $9550 have been donated by our Club for this purpose. Library Director Lynn Alan Konovitz is seen here receiving the check from Lions Club President Anne Fahning while Lion Dave Chervinsky looks on.
---
Peace Poster Awards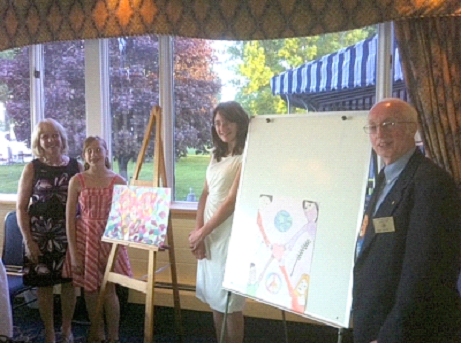 The 1st and 2nd place winners of the Lions Club Peace Poster contest were honored recently, along with their families, at the Buffalo Launch Club. From among 76 entries, Allison Sorci was selected to receive $100 and second place winner, Katie Gibbons was given $50. Both girls attend Grand Island Middle school. The contest has been open, for 24 years, to 11-13 year olds at St. Stephens and the Middle School. This years theme was "Children Know Peace". Posters are judged on expression of theme, artistic merit and originality. The posters will be on displayed at the Grand Island Library along with previous winners Pictured are Club President Anne Fahning, Allison Sorci, Katie Gibbons and Paul Bassette, committee chairman.


---
Glaucoma Seminar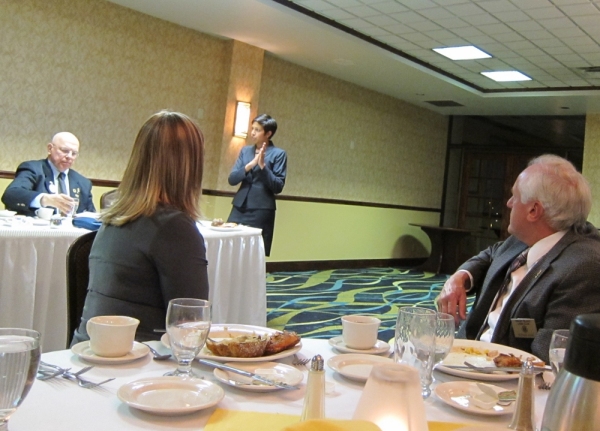 Guest speaker; Dr. Sandy Sieminski, addressed our club at our March 14th meeting. Dr Sieminski spoke about the newer treatments for glaucoma available at the Ross Eye Institute.
---
Tree Decorating Fundraiser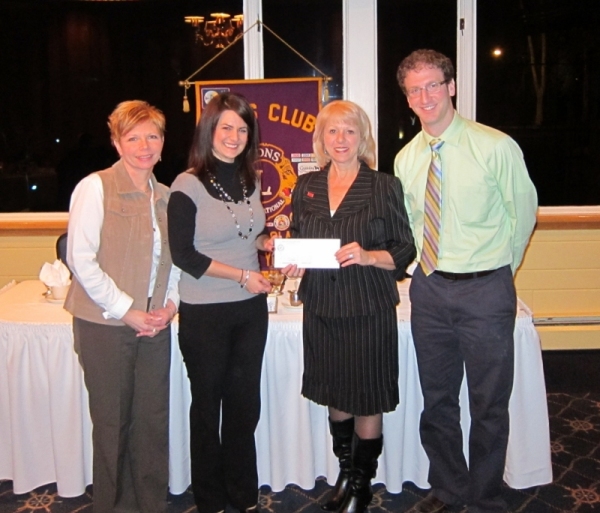 GIHS Teachers Lt to Rt, Cheryl Chamberlain, Christina Podlucki and Bob Simpson, presented a check for $300 to Lion President Anne Fahning from Grand Island Student Council Holiday Tree Decorating Fundraiser. Various school clubs decorated trees that were auctioned off at the Town Hall Recreational department's community event with Santa on December 14th in the Viking Mall at the GIHS. The clubs sponsored 12 trees with $100 of donated decorations. There were 8 different activities available for the participants including ornament making, food drive with GI Neighbors Foundation, Santa and Face Painting. Along with many students volunteers, there were approximately 300-400 people who came to participate.
---
Helping the Neighbors Foundation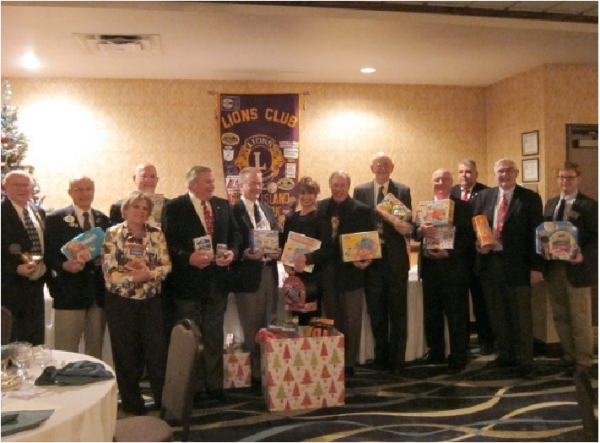 Lions with gifts for the Neighbors Foundation. Lt-rt Lions Al Ackerman, DG Clancey Burkwit, Donna Lavallee, Tom Witkowski, Bill Wind, Brooks Rimes, Shelia Ferrentino, Tom Rusert, Dave Chervinsky, Dick Planavsky, Ed Payan, John McCartney, and Mike Steinagel. Obstructed and holding the banner is Fred Ruocco.



---

Special Kids Picnic 2011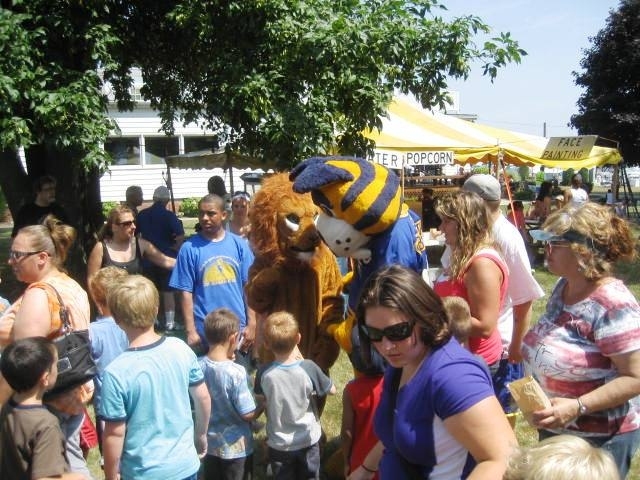 On July 20 at the Buffalo Launch Club grounds over 750 children and staff were treated to boat rides, pony rides, Shriner Mini Kar rides, magicians, clowns, face painting, popcorn, soda, hot dogs and hamburgers. The Niagara Experience Players, a group of young people from Niagara Falls and North Tonawanda, entertained the children with singing and dancing. Over 110 volunteers from the Grand Island, Ransomville, Kenmore, Merritton Ontario Lions Clubs teamed with Excalibur Leisure Skills, private boat owners, Knights of Columbus, Grand Island High School cheerleaders and football team as well as Girl Scout Troop 39 and Boy Scout Troop 104 and community citizens worked to make the day a special summer experience for kids with special needs. Participating schools were Erie 1 BOCES, Niagara Orleans BOCES, Autistic Services, and Heritage Education Centers, Sweet Home School, People Inc, and the Health association of Niagara County Day Camp.



---
Lions Join the Ride for Roswell
The Grand Island Lions Club will be participating in the Ride for Roswell-Grand Island on August 21st. The Ride supports our world renowned Cancer Institute and helps raise money for cancer research. Anyone who would like to join our Lions Club Team can sign up here: http://giving.roswellpark.org/page.aspx?pid=1205. Once you register you can choose "Grand Island Lions Club" as your team.


---

Lions donate $75,000 for Miracle League!
The Grand Island Lions Club has been working with Miracle League of Grand Island and Western New York for the last six months helping with fundraising, submitting grants and getting other Lions Clubs involved with Miracle League. We now report our grant application to Lions Club International Foundation (LCIF) http://www.lionsclubs.org/EN/lci-foundation/index.php has been fully funded. Because the $75,000 requires matching funds, the Grand Island Lions Club has been working together with Miracle League with various fundraisers. In addition, Other Lions Clubs in the District are participating. The Lancaster Lions have co-sponsored the grant application while the Amherst Lions donated $1000 from a recent pancake breakfast fundraiser. Lions District 20N, of which the Grand Island Lions is a member, also donated $1000. Our Grand Island Club also has three smaller grants that will be submitted to help Miracle League.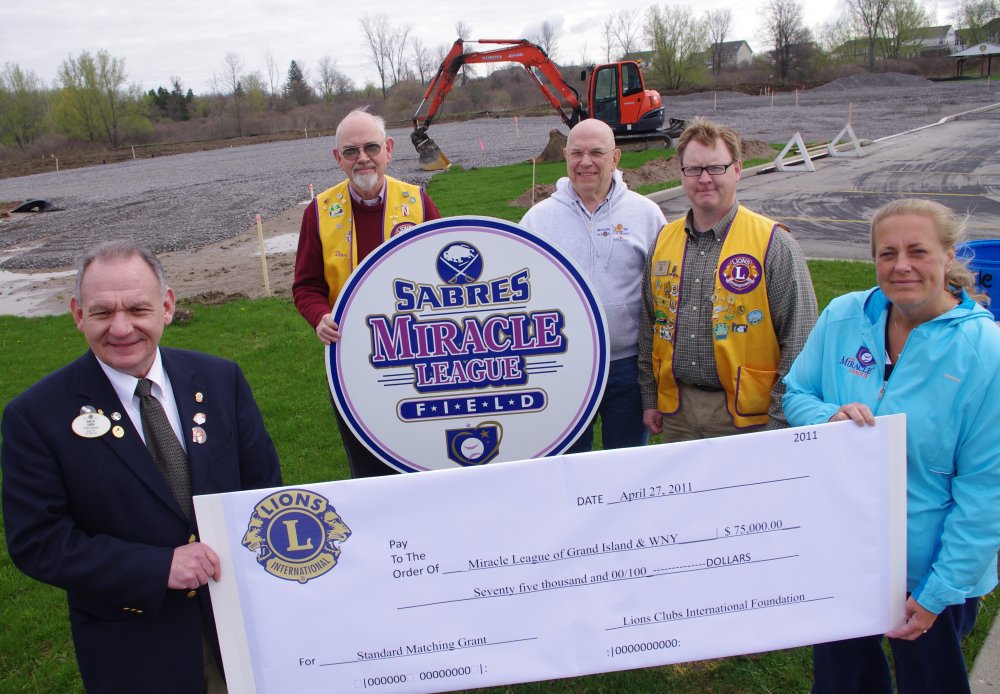 Lions Club District 20N Governor Gary Carini presents a check for $75,000 to Teresa Hooper,
President of Miracle League of Grand Island and Western New York. Also present 2nd
from left Grand Island Lions 2nd Vice President Tom Witkowski, President Dave Chervinsky,
and Grand Island Lions and Miracle League member Mike Steinagel.


---
Lions Journey For Sight - April 2009
The Lions Clubs of Western New York is hosting the 20th anniversary of the Lions Journey For Sight on Saturday, April 25, at Tuscarora State Park, 3371 Lake Road (Route 18), in Wilson, NY. Registration begins at 10 a.m. with the walk underway at 11 a.m. The Walk is from 0 to 4 miles with a route suitable for any age or physical ability. Entertainment will be provided by the Niagara Experience Players and the Strawberry Festival Idol winners. There will be free food and refreshments for the fee of just $5.00. If a commemorative tee shirt is wanted, fee is $15.00. All information is available on line at www.20nlions.org or call 773-4437. Beneficiaries are Canine Helpers for the Handicapped, Niagara County food pantries, Vision Beyond Sight, SEE Program, and Lions Camp Badger. This event is being promoted by the Grand Island Lions Club.

---
2009 Grand Island Lions Spaghetti Dinner is a Huge Success!
On Monday March 30th the Grand Island Lions had their 39th annual Spaghetti Dinner at the Grand Island Holliday Inn. The event, thanks to the tremendous participation from our Grand Island community, was a resounding success and raised money for the "Special Kids Picnic" to be held on July 15th at the Buffalo Launch Club.


---

Lions Sight Night (Halloween) October 31st 2008
The Grand Island Lions, with the help of children from the community, volunteer each year to collect eyeglasses and hearing aids, and recycle them to help the disadvantaged around the world to see and hear again. If you would like to volunteer or for more information Click Here
________________________________________________________

Campaign Sight First II
The Lions are in the midst of Campaign SightFirst II, a global initiative to raise $200 million for our blindness prevention and sight retention efforts around the world. Thirty-seven million people are blind with 80% losing their vision needlessly. With current growth, 41 million more individuals will lose their sight by 2020. We have pledged not to allow this to happen. Eleven adults and one child lose their sight forever every minute. Please help us in this cause - every donation will be welcomed!
For more information about The Grand Island Lions contribution to Campaign Sight First II and how you can help, call (716) 773-4437, or email at liontom20n@roadrunner.com .


---
---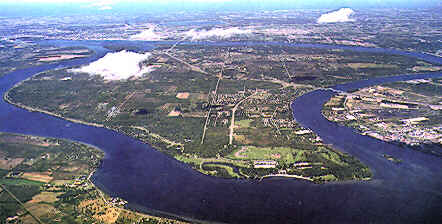 Grand Island, New York is one of the world's most unique locations. To those who live here, it is much more. It shares the natural brilliance of neighboring Niagara Falls, as well as the vibrancy and vitality of nearby Buffalo. Grand Island is located on the Niagara River, an international border between the United States and Canada. While serving the Community of Grand Island and Western New York, Our Club interacts and shares in activities of our "Sister Club" the Merritton Lions Club of St. Catherines, Ontario, Canada. To visit our "Sister Club" go to:Merritton Lions Club


To see an enlarged view of the above photo click here
Photo courtesy of Paul McCarthy and the Grand Island Chamber of Commerce
Taken by Mark Dettmer - Angel Arts Publications
Available as postcard, Chamber Office (5/$1.00)
---
If you are a member of this organization, we need your help. GIECOM.Net has partnered with the Connections program to help Grand Island as a community "Get it Together." Please visit our website G-I-Together.ORG and fill out our SURVEY. Every group on Grand Island will have its own FREE web page showing: meeting times and location, contact persons, your Mission Statement and a listing of events. We will also be linking your news events that appear in the local media and on IsledeGrande.Com, Grand Island's E-News Source, to your page, maintaining an archived journal of pictures and news. This is the perfect opportunity for your group to connect with potential new members and the community.
---
//////////////////////
---
Other Grand Island Pages to Visit:
Churches | Email Directory | Government | Groups
GIHS Grad List | Guestbook | Please sign in! | Local Artists | Photo Album | Town History | Useful Links
| Website Design | Wildlife | Isledegrande's Home Page | GIECOM.NET'S Home Page
Please Email News Releases to Teddy Linenfelser, Thank You.
This website is sponsored by
GIECOM.NET

1869 Whitehaven Road, Grand Island, New York, 14072-1803 USA


Copyright © 1995-2003 All rights reserved.